Monthly Archives:
March 2015
Gooo Dayton Flyers!
Today is a great day! For UD Flyer Fans… that is. Did you all know? That's my alma mater, graduated in 2012 …and I miss that UD Ghetto… ahem, 'Student Neighborhood' every single day 😉 Yesterday, we won the first round of March Madness. I don't think I've ever seen so much UD love on my News Feed before.
In celebration of today… I'm sporting my University of Dayton vintage tee! That's right… it's vintage and it's been in my family for years… and it's really from 1984. Along with me – my Mom and Dad attended Ohio's best Marianist College. A few months ago, my Mom found a whole bunch of old tee-shirts in the attic… and among them – was this beauty!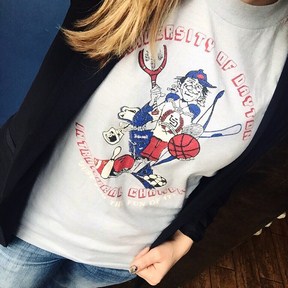 So today, as I'm wearing this graphic tee – I was inspired to share with you some of my other favorite graphic tees… and how to wear them. For professionalism and for play… and YES both can be done.
Again – all of these picks are from Amazon.com… great prices… and a larger selection than any department store I've come across in my 24 years!
First up… Mickey Mouse Tees! Seen here in Olive (and yep, you guessed it – along with the vintage Dayton tee… my mom also pulled out a vintage Mickey Mouse jersey tee – which of course, is what has inspired this choice).
Next up: Superhero vintage-inspired tees. These always make for a great (and comfy!) conversation piece. They're usually decked out with bright colors and graphics for days. I have linked up here a MENS tee… ladies! Do not be afraid to cross that line and order a tee you really enjoy in MENS. I recommend a few sizes smaller than usual… but when it comes to wearing material like this… size/gender lines are totally blurred.
Before I go! Here are my tips for styling all of these…
1. If you're trying to kick it professional… pair these tees with 'work pants'… you know, the black ones that you wear all the time (or the brown or the pink or the whatever)… just make sure the pants are acceptable for work. Then, throw a blazer on over it… and then pair with dressy flats or even heels! (heels get my vote!)
2. If you're handling a regular day… tees are easier to style. Wear with jeans, a pair of your favorite sneaks (my choice would be Converse), add a vest or button up sweater… if it's nice and warm out… tie the side of the tee up into a not and add a pair of high-waisted jean shorts. A pair of sunglasses and a few too many rings and you have yourself a chic day-look.
Don't forget, didn't find something you liked here? Shop all you want by searching what you like… clickВ HERE
for FREE shipping on all Amazon vintage-tee-inspired shopping orders of $35 dollars or more.
xo, Duffy
No Comments
POSTED IN:
#ootd
,
1990 fashion
,
90s fashion trends
,
90s style
,
chicago fashion
,
chicago influencer
,
chicago microblogger
,
dress clothes
,
fashion influencer
,
hot fashion
,
instagram influencers
,
microblogger
,
ootd clothing
,
outfit
,
petite fashion bloggers
,
pittsburgh blogger
,
powerful women to watch
,
top social media influencers
,
what i wore
,
womens clothes
---