It's the purse.
It's the purse. Does anyone else feel like this year is going to be drastically different than 2016? I genuinely feel the earth's shift of consciousness. I'm not entirely sure what that means — but I'm positively optimistic.
And more importantly, I'm positively optimistic about the next set of #OOTD blog posts I'm going to be sharing with you. As I'm sure you've all gathered by the posts on social media — I've been collaborating with handbag brand: Holly and Tanager. H&T hasВ set out to create bags that are designed to keep up with you and your busy schedule. Hence the hashtag #OwnYourSchedule 😉
This week, or what was supposed to be this week, before I remembered there isn't enough time in one day … I mentioned on my Instagram I'd be sharing this outfit. Yes, it's Saturday, and yes — I'm lazily writing this in bed, it's still *technically* considered "this week" … right?! RIGHT.
This is the first time I've worn these American Apparel leggings. I LIVE IN THEM. They were a bit pricey, $60 bucks but when you have friends like Paige Charbat who force you to buy things you definitely NEED, who push the "purchase" button for you online … $60 dollars on a pair of classic, high waisted and perfectly conditioned leggings doesn't sound SO bad!
I love bodysuits. They make me feel sexy. Weird, right? Cause it's basically an adult onsie! HA! This one is from Zara.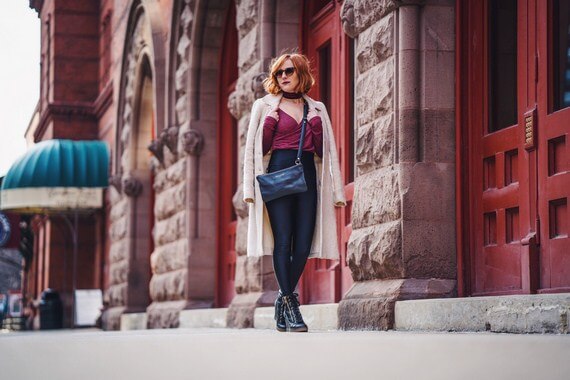 I paired the pants with favored accessories. A choker I can't stop wearing. I can't stop wearing a lot of things it sounds like … ? My #WhiteCoatWinter is back — vintage find in the South Hills of Pittsburgh, PA. And then OF COURSE — my H&T bag. This one is the Sidekick 2.0. Throw on a pair of perscription sunglasses from Eye Buy Direct and you have yourself a cute little outfit for strolling down the streets of Printers Row!
BTW this was the first unacceptably cold day in Chicago.В @snrodichВ and I shot these looks back in December.
xo, Duffy
Photographs: Steve Rodich,В @snrodich on Instagram