Kiehls x amFAR — Life Ride 8 in Chicago
Kiehls x amFAR — Life Ride 8 in Chicago.
Motorcycle Riding Influencers Join Kiehl's to ride through the Midwest to Raise Awareness and Funds to Help Find a Cure for AIDS
NEW YORK, August 2017 – Maintaining its long-standing tradition of supporting HIV/AIDS charities, Kiehl's Since 1851, the venerable New York-based purveyor of fine quality skin and hair care, is pleased to announce its continued partnership with amfAR, The Foundation for AIDS Research, and the eighth annual Kiehl's LifeRide for amfAR.
Inspired by a Kiehl's icon – the motorcycle – a spirit of adventure and philanthropic heritage, the eighth annual LifeRide continues the brand's mission to heighten awareness and raise funds for amfAR. This year, beginning in Minneapolis and ending in Nashville, the multi-city charity ride will take place over 8 days, from July 31-Aug. 7, 2017.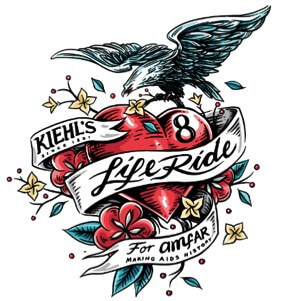 Rallying with the public at nine store stops along the route, Kiehl's will donate a total of $100,000 over the course of the ride. At each stop, the public can meet the riders, social media influencers, learn more about amfAR and contribute to the non-profit. At the conclusion of this year's ride, Kiehl's LifeRide for amfAR will have ridden more than 11,500 miles since 2010, and raised more than $1.7 million, funding nine cure-related research projects.
Chris Salgardo, President, Kiehl's USA and Kevin Robert Frost, CEO, amfAR will lead this year's riders:
Ian Bohen, actor, Teen Wolf
Anthony Carrino, co-host, Kitchen Cousins
Gilles Marini, actor, Switched at Birth
Grant Reynolds, host/producer, What Could Possibly Go Wrong?
Luke Wessman, tattoo artist, Miami/NY Ink
Tyler Posey, actor, Teen Wolf
Key partners for the ride include Cadillac, Delta Air Lines, and Hedon helmets.
JOIN THE RIDE and Alex Duffy of Duffy Dossier in Chicago on August 3, 2017!
THURSDAY, AUG. 3—CHICAGOLAND o Kiehl's Since 1851, The Shops at North Bridge, 520 N. Michigan Ave., Chicago, IL, 11 AM-12 PM
Even if they're not on this year's ride route, Kiehl's customers nationwide can still join LifeRide and the fight against HIV/AIDS:
xo, Duffy