FW15 Desigual.
I feel like I'm talking in doubles … this is yet another show I adore attending … and it is also – the second time I've seen Desigual's Runway in action. The first time was a year ago when I attended Fall/Winter 2014.
Desigual is always a high energy show. It's not your average New York Fashion Week experience… the models have smiles on their faces and are encouraged to interact with the photography pit at the end of the Runway + if they feel so inclined: the audience watching.
The models demeanor makes complete sense – it's positivity and upbeat persona quite literally match the looks you see walking down the runway. Bright yellows, bright blues, bright greens are the things that come to mind when we remember Desigual's most recent show.
One of the chic-est pieces that walked this season's Desigual Runway… their decorative berets. I'm a gal whose a fan of the accessory to begin with, let alone when Desigual decides to add decorative oversized pom-poms to the mix.
Desigual also gave us a lot of floral prints for Fall/Winter 2015. Which, I have to say – I'm a fan of. Lately – throughout the industry, we're seeing bloggers – designers and everyone alike – wearing florals throughout the winter time. Reminds us of sunnier days, am I right?!
This show was also special because I got to see Chantelle Brown-Young. The model who made an appearance on Tyra's America's Next Top Model series… and also has the same skin issues as Michael Jackson did, doctors call it "Vitiligo". Chantelle is actually the face of Desigual. Her unique 'be you' platform matches extremely with the brand's initiatives.
Here are a few of my favorite pictures from Desigual's Runway Show (source: www.mbfashionweek.com // and for more photo's of Desigual's FW15 show, copy & paste this link into your browser:В http://mbfashionweek.com/gallery/ny-desigual-runway-mercedes-benz-fashion-week-fall-2015).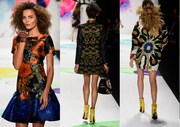 PS – my absolute pick from this collection is the dress, in this picture above – on the left.
And to shamlessly speak of the celebs front-row: Katie Holmes (who I didn't actually see, she must have been in the rows in front of me, not across from me!), Stassi Schroeder and her apparent BFF –В Catherine Giudici. I did actually see those two, caught them taking a selfie 😉
xo, Duffy