FW15 Mark & Estel.
Quite literally, one of my favorite shows. This time around, it's my second time attending Mark & Estel since I started going to Fashion Week a year ago. I viewed their Spring/Summer 2014 Collection, last September – and was invited back to see their Fall/Winter 2015 collection debut on the runway this season.
Mark & Estel are not only Fashion Designers… they're Musicians. We like to call them, and they like to call them: "Fashion Rockstars". Which, they truly are. Mark & Estel actually made history back in 2013, they were the first designers, ever, to have a performance after their models walked the Runway. The performance was the two of them [Mark & Estel] singing a song they specifically created to match to the collection… and the occasion. And now, they've made it a habit to perform after each Fashion Week Runway Show. It's actually pretty rad, actually pretty creative, and that's actually why I think they're pretty cool.
Mark & Estel's Fall/Winter 2015 Collection reminded me of the movie School of Rock (naturally, haha). The main colors streaming through each piece were red, blue and black. (PS, red and blue made lots of appearances on multiple Runways during FW15 Fashion Week.)
My favorite looks were the ones with the red and blue plaid pattern. There was this amazing cocktail length dress – capped sleeves, and a big dip around the back… the model's entire back was showing. Sexy.
Mark & Estel also showed a few silk dresses… black and red, mostly. There was a simple straight red gown and we also saw a few that considered themselves 'wrap'… plus they had slits as high as your thighs. Sexy x2.
We also saw interesting hardware with this Fall/Winter Collection. Belts – fur hats, metal cuffs on both wrists, necklaces with the word 'ME' displayed. Here are a few of my favorite photos from the show. (source: www.mbfashionweek.com // for more photos, copy & paste this link into your browser: http://mbfashionweek.com/gallery/ny-mark-and-estel-runway-mercedes-benz-fashion-week-fall-2015)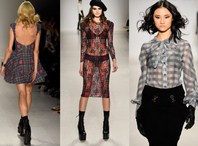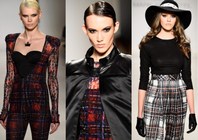 I'm looking forward to the next runway show they put together… truly a favored Fashion Week Show for us here at Duffy Dossier.
xo, Duffy