Backwards hat.
My hair is so long! I can't believe it. I need to get that baby chopped, and soon! Where's Paige Charbat and Ladies and Gentleman Salon and Spa in Chicago?! Anyways, this look was super easy to create. It's all about the types of pieces you have in your wardrobe, guys – it's not about the entire looks, per say. I have this amazing white-coat-winter vintage piece + that statement, and trendy, bucket bag for the upcoming season, along with a casual, yet chic backwards hat, topped (or bottomed, in this case!) off with pink chucks.
I have to be honest, this style happened completely on accident. I wasn't planning on taking any kind of outfit shots today, but that's why I'm telling you =) It's all about the pieces … I used to put so much pressure on myself to have entire outfits programmed into my week. Stressing out about the perfect jewelry to match, or trying my hardest to incorporate some up-and-coming style.
When the focus is on the pieces, and not the entire outfit, the stress melts away and typically, if you still to your own style, everything in your closet (essentially!) goes with everything.
hat / monogrammed 26 (my lucky number) DIY
coat / vintage by Kristy
shoes / converse
bag / monserat de lucca via @shopbop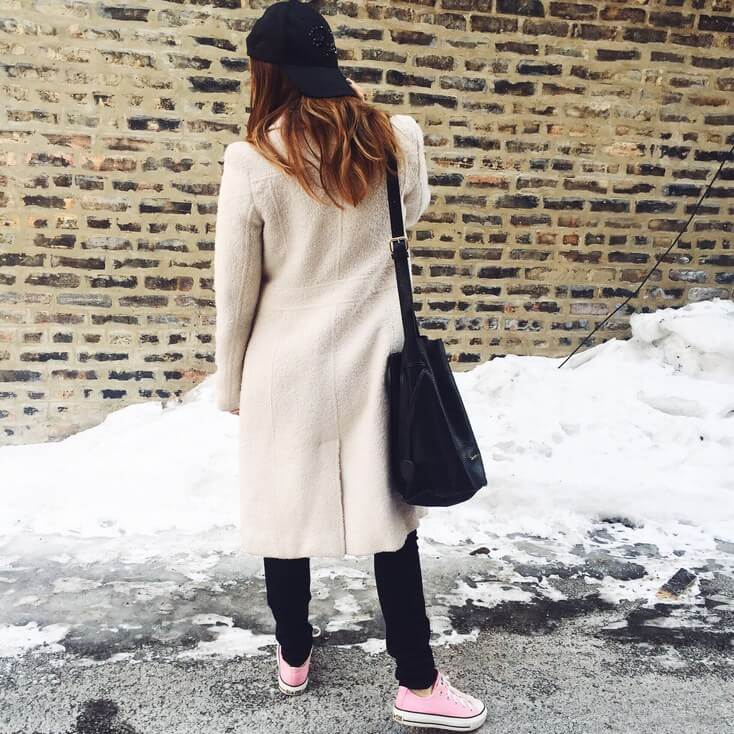 photography / Sarah Duffy
xo, Duffy