Airport Kindness: PIT International.
Truly, I can't express to you all enough how amazing this job is. I get to work with some incredibly talented folks and I get to represent both cities I love – Pittsburgh and Chicago.
Today's post is all about Pittsburgh – Pittsburgh International Airport and it's AIRMALL… that is. Remember back in September when I attended the Grand Opening of the high-end shopping mall located in our beloved terminal? Not only have they done great amazing things… they keep doing them!
AIRMALL USA – Spreading Random Acts of Kindness (RAK) Week. From Feb. 9-15, 2015. Throughout the week, AIRMALL and its tenants will be offering unexpected surprises to help brighten the day of travelers at Baltimore/Washington International Thurgood Marshall Airport (BWI), terminals B and E at Boston Logan International Airport (BOS), Cleveland Hopkins International Airport (CLE), and Pittsburgh International Airport (PIT).
"Sometimes traveling can be stressful, and it has always been AIRMALL's mission to help enhance and improve a traveler's experience by making their time at the airport more enjoyable," said Jay Kruisselbrink, senior vice president, AIRMALL USA. "That's why we're excited to participate in Random Acts of Kindness Week in an effort to do something special for travelers to help brighten their day. In turn, we hope that they will help to further spread kindness by doing something nice for someone else. Something as simple as smiling at a stranger can have a positive impact on both the giver and recipient."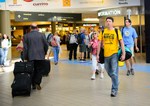 While the week is officially over… that doesn't mean we still can't spread the love. I myself, was just shuffling through the airport… racing to my gate (almost missing my flight) and seeing someone smile or nod the "I've been there" nod, is ever encouraging.
Such a brilliant idea and something I believe to be contributing to the greater good!
In honor of RAK Week… DuffyDossier will be giving away one AIRMALL Gift Certificate… for $100 dollars! That's right folks – Pinko (did you know, the only Pinko location in the US is in Pittsburgh International?!), Furla (my favorite!), Armani Exchange, Nine West… and many more stores alike are all available for you to shop.
How to enter? Follow @DuffyDossier on Instagram, and look out for the picture-post matching this blog post… #RAKweek will be hashtagged – so, you'll know when you see it. Details on the winner and how to claim the prize will also be detailed in this Instagram post.
Can't wait to meet the winner! And I can't wait to continue spreading Random Acts of Kindness… everytime I visit Pittsburgh International… or any AIRMALL location.
Shop with you soon!
Duffy