Good evening – ladies, gentleman, girls, boys, men, women & children – this post you're about to read may be the most epic post I've ever written… mind you, it's not because the posts prior are weak in comparison; it's because this post details NEW YORK FASHION WEEK! No, but like really, New York Fashion Week – Mercedes Benz Fashion Week, the real one in New York City. Catching my big-deal drift?
While I can't begin this post without thanking, Pretty Living PR.В Without them – Duffy Dossier may have taken a bit longer to reach the big city and indulge in her big city dreams. I was able to take advantage of the opportunity and hitch a ride with my firm to cover the week for Pretty Living Magazine and blog my pretty-little heart out!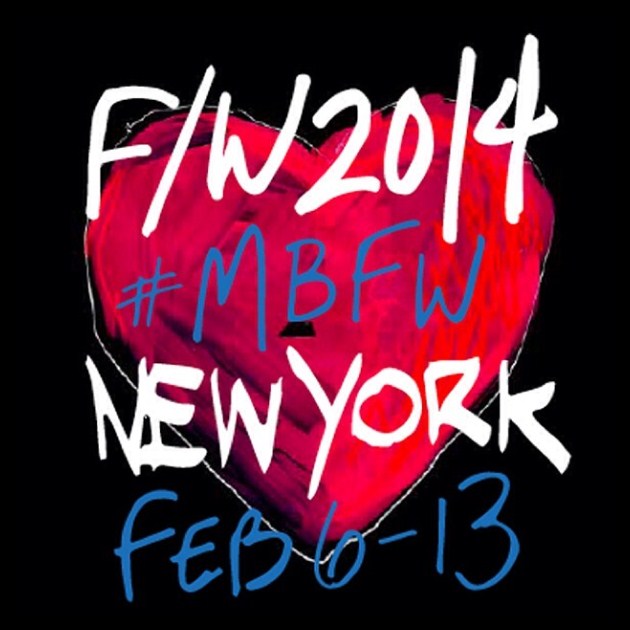 OK, so first let's please just chat about the TRENDS, not because I researched them ferociously on the internet, but because I was actually there, and can tell you straight from the horses mouth! The horses mouth being my own, in case you needed that clarified… 😉 (Can you tell I'm still a little bit excited about the fact that Alex Duffy of Duffy Dossier was at NYFW, #swooning.)
Mathieu Mirano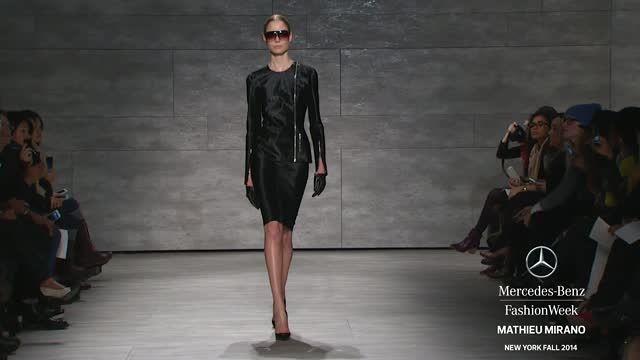 Structure, structure, structure! The pieces walking so graciously down the runway were high in structure. Meaning, the bodices had harsh shaping to them, you noticed angles in the fabric; cut-out blouses were also structured within the trend… within a trend. While there was no shortage of structure there was also not shortage of sheer! Especially on the gowns that walked the Runway. I had the privilege of attending Monique Lhuillier's Runway Show and each of her gowns hit the floor with sheer-ed fabric more often than not. Along with the sheer-element, #FW14 showed us lots of intricate beading, unique sequinning and pretty delicate things attached in very pretty ways …that I couldn't even begin to wrap my pretty brain around how they actually did it!
Noon by Noor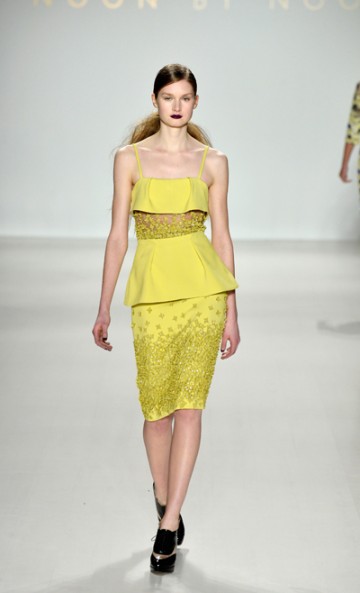 The popular colors, you ask? Pinks, mauves, blacks, greys, navys, nudes, yellows, metallics, and sequins! Um, Alex sequins aren't a color…В Well, of course they're not, but they showed up so much that I'm making them one! And the colors within the color of 'sequin' that showed up the most? Pink and silver.
Layana Aguilar (L & R)
FRINGE, it's all about the fringe this upcoming Fall/Winter 2014 season, too – in particular, leather fringe. I hear myself trying to keenly reference 'Boots with the Fur' and somehow relate it back to, 'Boots with the Fringe' …but it's not working, ah – I digress.
Maybe I'll try this though… fur was also a commonality among the lanky beings that walked up and down aisle in front of me. Mmm, there was this yummy looking fur from Mathieu Mirano that wrapped itself up like a scarf (she almost doubled as a blanket, too) in this breathtaking wintery white and grey color. Seriously though, do they have a term for a clothes-induced orgasm?
High-low gowns were also something even the most respected designers were showing within their fall collections. I, myself, find the high-low gown to be somewhat casual (but! great for a petit gal, like me). You also saw great little #FW14 details in the form of accent pieces, accompanying the main-outfit course – strutting themselves alongside and down those runways. Zippers set in colors you wouldn't typically find… making some of the looks a bit retro; collared neck pieces and dual-colored brimmed hats.
Layana Aguilar (L);В В Jay Godfrey В (R)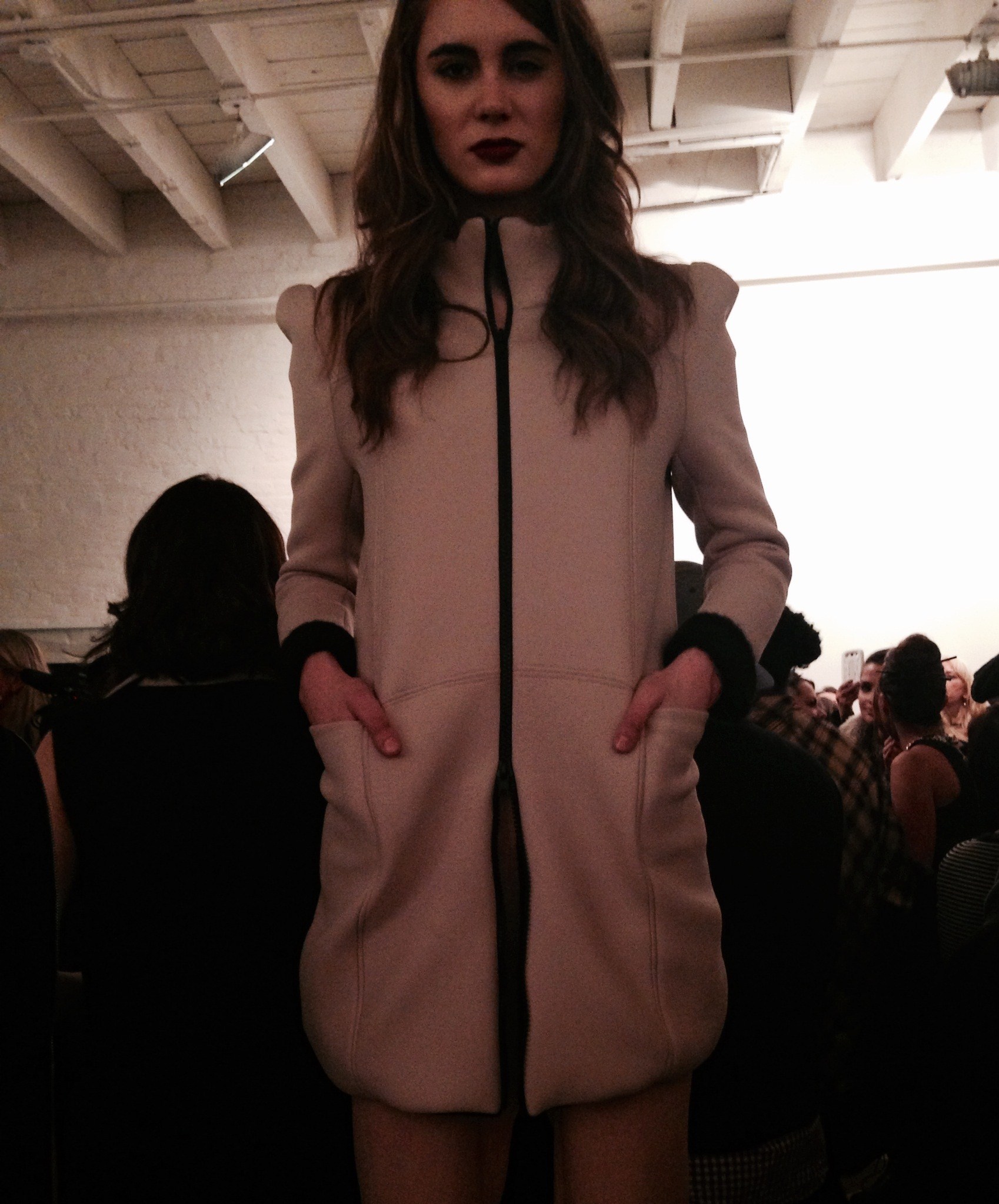 В В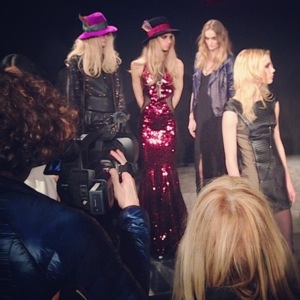 While I must end this post, as much as I'd like to go on – I need to eat dinner and put my laptop down at least once this day. Rest assured, I'll be back and much more frequently; I do solemnly swear…
Want to catch up on my, 'when I was there'В NYFW coverage on the Pretty Living PR Blog? Click Below.
1. Layana AguilarВ 2. Mathieu Mirano & Noon by NoorВ 3. David TlaleВ 4. MoniqueLhuillier & RuffianВ 5. Raoul, Jay Godfrey & Desigual
Ever so stylishly yours,
\\ xx, Alex
—
Please Note: All photos are either photos taken via Duffy Dossier or fromВ www.mbfashionweek.com; the photos displayed are from those Shows that Duffy Dossier attended, exclusively.