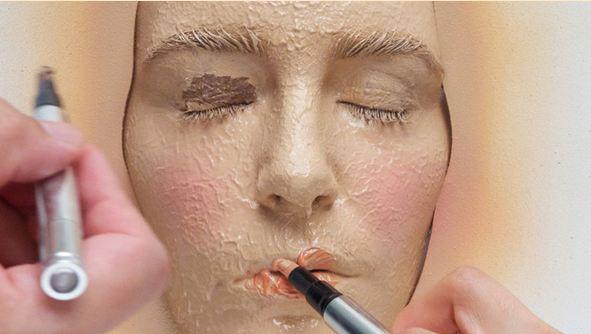 It is every woman's dream to have a perfect makeup like most of the top celebrities around the world. However, without proper guidance, such looks will forever be a dream. Many people fail to understand that not everything is meant for them and what works for someone else must not always work for every other person. To solve this, we have come up with a list of the top mistakes that most individuals commit when applying makeup.
Wearing Makeup on a Dry Skin
One of the biggest mistakes you will ever make is to apply makeup on dry skin. That is because it makes your face look dull, old, tired, and cracked. A proper makeup should be built on a solid foundation. So, ensure that your face is well moisturized ahead of makeup application.
Wrong Foundation Shade
Foundation should always look as natural as possible. Wearing a shade that is too dark or too light on your skin can mess you up. Kecia Littman, a makeup artist, advises that switching different tones on your jawbone will help you decide what will best work for you. She also added that testing the foundation on your face or the back of your hands will not help.
Wrong foundation shade will accentuate your blemishes and fine lines, and you will not like it. So, a perfect shade is the only way to get that flawless face.
Improper Way of Applying Foundation
If you use a sponge to apply your foundation, then you are probably doing it wrong. A sponge will soak up a lot of your foundation leading to wastage of the product and money. It will also give you an uneven and cakey result, which is an injustice to your skin.
If you want to experience wonders, use a brush to apply your foundation. It is easy to use, invest, and navigate across the face.
Heavy Foundation
Applying a lot of foundation on your face is the most unjust act you can ever do to yourself. It will give you a cakey or clown look in a costume. Foundation is only essential when having a light and sheer makeup. Any other time, you do not need it all over your face. Alternatively, you can apply it on your cheeks, nose, and under your eyes.
Also, ensure that you blend your foundation correctly. Do not forget to apply it on your neck and around your ears as well. With that, people will not quickly notice that you are wearing makeup.
Poorly Drawn Eyebrows
Eyes are the windows of the soul. Neatly drawn eyebrows frame those beautiful eyes. On the other hand, bushy eyebrows look unkempt and tidy. Additionally, drawing thin or tadpole-shaped brows will also not flatter your eyes. Instead, they will change your look entirely. So, the most effective thing to do is to consult a professional.
Not Priming Your Skin
The role of makeup primers is to even out your skin texture. It gives you a smooth canvas to apply your makeup and make it last longer. So, the product is generally used to reduce the appearance of pores, blemishes, and fine lines. It can also be used to even out your skin tone.
Moreover, makeup primers are essential in that they can also protect your skin. They create a protective layer and seal over your skin.
Utilization of Untidy Makeup Tools
Applying makeup with dirty brushes and sponges should be one of the top mistakes you should totally avoid. Untidy devices cause makeup to break out. Additionally, they can also cause skin issues. To prevent this, ensure that you clean anything that touches your face. In fact, you should be cleaning the brushes daily. Nevertheless, if it is not possible, then do it weekly.
Wrong Blush Color
Blush is meant to add color flush on your cheeks to liven them up. If you want to know what will suit you, check the natural color of your inner lips. So, to find a suitable shade for you, look at the center of your lips and choose the same blush color.
Improper Application of Mascara
If you are looking for suitable mascara, go for the one that is two shades darker than the color of your eyebrows. Avoid applying more than two coats of this product if you do not want your eyelashes to end up looking clumpy. You should also consider getting rid of mascara that is more than three months old to avoid a dramatic look.
Another mistake that most people make is to apply the mascara on the upper lashes the same way they do to the lower one. The right way to do this is to hold the wand vertically and apply the product.
Use of Expired Makeup
Every product contains an expiry date. Makeup is not exceptional in any way. Aside from being ineffective, expired makeup can cause eye irritation and infections. Therefore, ensure that you throw away any product in your drawer that has been there longer than you can recall.
Applying Makeup Too Early or Too Late After Moisturizing
Regardless of your skin type, always moisturize your face after every wash. It is crucial, particularly before makeup, to prevent rough and flaky skin. However, doing makeup too soon after moisturizing can thin out the products. On the other hand, waiting for too long can also cause skin dry out. The best time to apply makeup should be between 1 and 10 minutes after moisturizing.
Applying Makeup in the Wrong Lighting
To understand what best suits you and what does not try using the makeup in natural light. Unnatural lighting may disappoint you, and you may not look as flattering as you thought. Therefore, ensure that you pick what works for you in the natural light.
The above tips can help you to incredibly correct the top mistakes that you innocently commit when applying makeup. If you take your time to go through them, then you will undoubtedly have a chance to enhance your real and natural beauty.