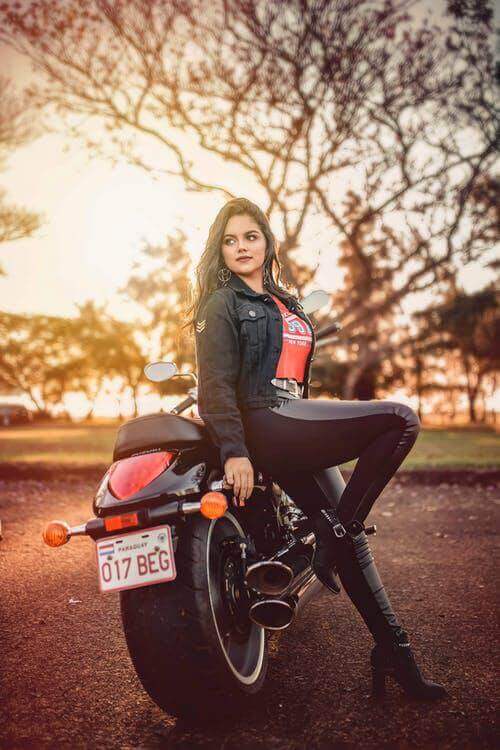 Biker jeans are a whole fashion trend in themselves for women. It does not matter whether you actually ride a motorbike or not but biker jeans are one piece of clothing that sets well with any body shape and type for women. It is a unique trend that has come and will be here for a long time. Biker jeans are simply amazing and can make you feel comfortable while looking classic in their own way. When it comes to jeans, biker jeans are always on the top for sure. Here are the ten best biker jeans for women to look and feel absolutely fantastic in.
Skinny Ankle
The skinny ankle biker jeans are one of the most popular and classic ones in this variety. They carry this fashionable edge to them while also looking absolutely sunning. They ride high on the leg and come up to the ankle, looking classic in their particular style. The skinny ankle biker jeans have many varieties of colors in them and you can pick the one that suits you the most. This is one of the main reasons that these types of biker jeans have grown so much in popularity all over.
Slim Fit
The slim fit biker jeans are actually one option that you should go for if you want a sleeker look. These types of biker jeans necessarily do not suit everybody so make sure that you pick the right style for you. This is one jeans look that will actually complement your overall look. With them, you can keep your look simple yet sexy in the most sublime manner. Pair it up with any shirt and jacket and you are ready to rock the whole look with casual style.
Moto Jeans
These are the most famous kind and basically another name for biker jeans. Moto jeans mainly focus on giving you a certain level of protection from riding the motorbikes. This is more like a trend that actually changes heavier protected parts in the original biker jeans to more comfortable ones. The moto jeans give the impact that matches the same look for authentic biker jeans while making the whole pair of jeans more comfortable and adaptable to wear. Not only are complementary to the figure but also very chic to wear.
Leather Jeans
Leather jeans are also one of the most famous types of biker jeans that women all around the globe perfect to wear. Apart from this cool badass vibe that leather jeans hold they are also extremely comfortable to wear. One of the great things about them is that they fully support the curves of your body and give you a much more firm appearance. They also have a flexible fit that can adjust adoring to the contour of your body as well. A nice pair of leather biker jeans is something every woman must have in her closet.
Skinny Washed
These style of biker jeans is very important. For some women one-tone, biker jeans may work absolute wonder. However for some women biker jeans that are both skinny and washed actually look perfect. The look of your jeans is very important. The two-tone effect that washed jeans gives actually makes a huge impact on the whole look that you want to go for and can bring out an edgy look! Pair a skinny washed jeans with a nice sweater or top and trust me it will look great.
High Waist
The high waist biker jeans have to be the most comfortable sorts of biker jeans that are out there for women. Not only doe sit fit well but it also gives your waist a much leaner look. You can own them in any color, either blue or black and use them according to every occasion that you see fit. They are super relaxing and in any way do not compromise on the biker look of the jeans in any way. This is a definite must-have for every season.
Denim Leggings
One of the major trends that have changed the way we see biker jeans today has to be denim leggings. A pair of leggings is the comfiest piece of clothing a girl can own. I am sure all ladies will agree, right girls? Now mix it with denim to create a version of biker jeans and you definitely have me on board for this one. It gives you that stylish authority while also keeping your content at all times. Wear them to the movies or for a coffee run and you will be as trendy and easy as one can be.
Straight Leg
This is the biker jean style that is usually worn most commonly by both men and women. It is actually preferred by most because a straight leg biker jean is very fuss-free and can be worn casually wherever you might want to go. They fit perfectly well while resting lightly against your things. The good thing about them is the fact that they are not too tight in any way and do not make you feel restricted. Your movement in them can be free and easy.
Riding Jeans
These are the more serious types of biker jeans that actually are made with thicker denim and may even carry some sort of padding on the knee area. These come in many types and also have different variations. With a flexible stretch and knee paneling they even have smart zipper fixtures to complete the total look of the original biker jeans. The pocket styling of these jeans is more enhanced than any other type to look more cool and edgy.
Tapered Fit
The tapered fit biker jeans are actually pretty comfortable around two areas of your body, the waist, and the thighs. They are very free in movement but from the knees to the ankles they have a much narrower look. The best thing with tapered biker jeans is that they offer a classic and modern outlook on the traditional biker jeans. You can even pair them up with some lace-up boots and the whole look will be absolutely smashing.
Conclusion
The right kind of biker jeans can make all the difference for you. Make sure you pay close attention to the style and the fit of the biker jeans that you like. There are various types of biker jeans and the ten mentioned above are the ones that pretty much look best on all shapes and sizes. Getting the right biker jeans for women is a must, as you want something that compliments your look. Just do not forget to feel confident in whatever you wear.